Tennis & Pickleball
Lochmoor Club features two indoor and four outdoor tennis courts. The indoor courts are open to all Lochmoor Members at a designated hourly rate. The outdoor courts are open to all members from May to September. No court fees are charged for use of the outdoor courts.
DO I NEED TO MAKE RESERVATIONS?
Members must reserve court time for the indoor courts. A court fee will be charged to your account. Reservations are suggested for use of the outdoor courts. Call the Lochmoor Athletic Center to reserve a court. 313.886.0777.
CAN A MEMBER BRING A GUEST AND WHAT ARE THE GUEST FEES?
Guests are permitted to use the tennis courts when playing with at least one Member. A guest fee of $5 will be charged. A resident guest may use the facility no greater than once a month and no greater than six times in a year.

HOW DO I RESERVE A TENNIS LOCKER?
Lockers can be rented at the yearly rental rates posted at the Lochmoor Athletic Center Reception Desk.

ARE FOOD OR BEVERAGES ALLOWED IN THE TENNIS AREA?
Yes, food and beverages are allowed in areas designated by the Tennis & Fitness Coach. Food and/or beverages are not allowed on the tennis courts.

WHAT ARE THE SIGN-IN PROCEDURES FOR THE TENNIS COURTS?
All members must sign-in at the Lochmoor Athletic Center Reception Desk prior to play. Members must provide the names of all persons playing in their group and are responsible for signing in their guests.
CAN I ARRANGE FOR TENNIS LESSONS?
Members can schedule tennis lessons with Lochmoor's Tennis Pro Brian Antecki.
ABOUT THE PRO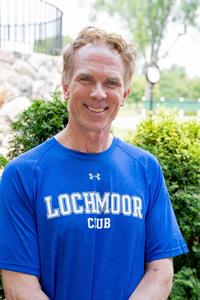 Brian Antecki is Lochmoor Club's Tennis Pro and Fitness Coach. Brian is a TPI Certified Golf Fitness Professional, USPTA Elite Tennis Professional, ISSA Fitness Professional, NASM Fitness Professional, and OSHA 30 Certified. He has served as Trainer to 3 WTA ranked Tennis Professionals and 30 National Champions. Brian has trained and worked with Hall of Fame Coach Vic Braden and USC's Peter Smith, winner of six NCAA Tennis Titles. He also contributed to a book: Championship Tennis.

Brian is no stranger to Lochmoor, having served as Interim Tennis & Fitness Director from 2017-2018.
As a former ranked athlete, Brian promises to bring his experience, expertise, and passion everyday to make a difference in your fitness life! We learn from each other, and in doing so help make your body the best it can be!
You can reach Brian at 313.886.1010 ext. 350 or by email to bantecki@@lochmoorclub.com.